07 December 2020

Ten Reasons Why Blended Working is the Future.
31 August 2020

MusicWeek: 'Work in Progress' Claire makes the case for blended work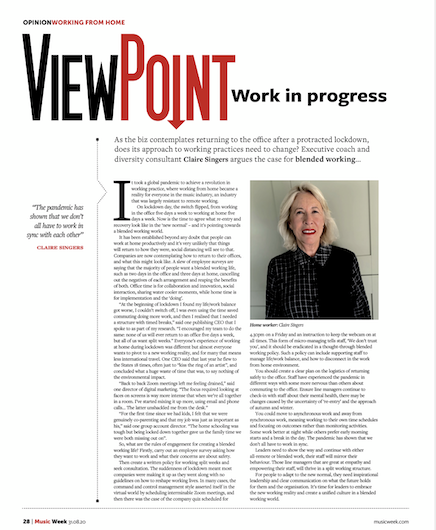 03 July 2019 - IQ Magazine

'Daddy Cool: The Case for Increased Paternity Leave'
15 April 2019

MusicWeek: Claire comments on the music industry's 2019 Gender Pay Gap
18 December 2018

January 2019 – IQ Magazine 'An Equal Opportunities Industry'
A comment piece by Claire on how the live industry can benefit from diversity.

12 November 2018

'VIEWPOINT' MUSIC WEEK
Claire writes about how to increase momentum towards a diverse music industry

05 October 2018

THE LLOYDS BANK NATIONAL BUSINESS AWARDS
Claire was a judge for the category, Employer of the Year, for these prestigious business awards. The awards ceremony takes place in November.

www.nationalbusinessawards.co.uk
10 April 2018

U.S Entertainment Companies Fail the Test in the UK – Guest Column by Claire Singers
You can read the article here : Variety Magazine Guest Column

08 April 2018

Payback Time?
Claire comments on the UK gender pay gap

14 March 2018

Claire was a panellist on the BPI's Diversity and Inclusion Forum
You can read the press release here
08 March 2018

BBC 6 Music 'From Time's Up to "Step Up?" An International Women's Day Investigation.
Claire contributed to this 22 minute piece, check her out at 4.24
Listen here
13 November 2017

13 November Music Week.
In this article Claire writes about how SMART WORKING can play a key role in achieving workplace gender equality and diversity.
Read the article here
02 November 2017

IQ Magazine, November 2017:
Claire's comment piece on 'Why Women and Diversity Lead to Better Business'
Read the article here
27 SEPTEMBER 2017

'Mind The Gender/Inclusion Gap'
Claire spoke on this panel, chaired by Natasha Bent, from Coda Agency. Also on the panel were Juha Kyroö, Full Steam, Vanessa Reed, PRS Foundation and Anders Wahren, Roskilde Festival. During a wide-ranging discussion, the delegates were encouraged to ask their employers about flexible working, parental policies and to embrace our differences. The lack of female artists on festival bills is a big problem and is gradually being addressed, but as ever, change should be faster.

30 JULY 2017

Claire wrote this guest column for Variety magazine: 'Why the Music Business Needs to Wake Up and Embrace Gender Diversity'
14 JUNE 2017

Polar Talks 2017: Claire moderated a talk on 'A Roadmap for Gender Diversity'
Featuring Aniela Ungurersan, Co-Founder of EDGE Certified Foundation, Ulrika Beisèrt, Global HR Manager, Ikea and Katarina Berg, Global HR Head, Spotify
17 JUNE 2017

Variety Magazine: mention of the Polar Talk on gender diversity
Sting and Wayne Shorter Awarded Polar Music Prize; Annie Lennox, Esperanza Spalding Perform in Their Honor
The ceremony and banquet followed by one day the annual Polar Talks, featuring artists, scientists and opinion-makers from around the world. Topics focused on the theme "the power of music" included the connection between music and memory; psychoacoustics – the power of sound and music to control our minds; and gender diversity. That panel, moderated by U.K.-based gender diversity consultant, executive coach and PR-strategist Claire Singers, featured Katarina Berg from Spotify, Ulrika Bièsert from IKEA and Aniela Unguresan, co-founder of EDGE, a Swiss based foundation that issues certifications to organizations with gender-enlightened workplace policies.
OCTOBER 2016

Article written by Claire for MusicWeek: How to achieve gender equality at senior level in the music business